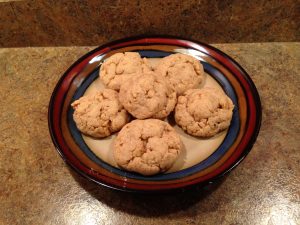 These cookies are dangerously delicious!
Ingredients
1 cup white sugar
1 cup butter
2 tsp vanilla
3 1/2 cups unbleached flour
1/2 tsp baking powder
1 tsp cream of tartar
1 cup ground flaxseed
1 cup rice krispies
1 cup brown sugar, packed
1 egg
1/3 cup unsweetened applesauce
1 tsp baking soda
1 tsp salt
1/2 cup walnuts or pecans
1 cup quick oats
Directions
Preheat oven to 350 degrees F.
Beat together the white sugar, margarine, egg, vanilla, and applesauce in a large bowl. Set aside. In another bowl, sift together the flour, baking soda, baking powder, salt, and cream of tartar. Set this bowl aside also. Grind 1/2 cup walnuts or pecans in a coffee grinder, then grind 1 cup flaxseed. Combine all the set aside mixtures with the nuts and flaxseed, then add in the quick oats and rice krispies. Drop by rounded heaping teaspoon on ungreased cookie sheets. Bake at 350 degrees F for 10 to 12 minutes. Makes 50 cookies. Each cookie contains 1/3 tablespoon flaxseed.
Recipe used with permission from Flax Your Way to Better Health by Jane Reinhardt-Martin RD,LD
Our Farm Fresh Flax Products
---