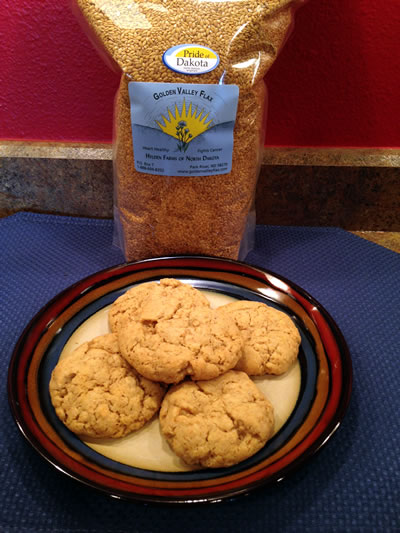 Caleb says, "Can I have another one, these are awesome!"
Ingredients
1 1/3 cups butter
1 1/4 cups granulated sugar
1 1/2 cups lightly packed brown sugar
2 1/3 cups ground flaxseed
3 eggs
1 1/2 tsp vanilla
1/2 tsp salt
3 1/2 cups all-purpose flour
1 tbsp baking soda
3 cups oatmeal
Directions
In a bowl, cream butters and sugars; add flaxseed.
In another bowl beat eggs and vanilla together, combine with flax mixture.
Sift together the flour and soda. Mix in oatmeal and combine with other ingredients.
Preheat oven to 350 degrees.
Form into balls, slightly flatten and place on cookie sheet.
Bake 13-15 minutes (depending on your oven, I bake them for 11 minutes)
Remove from sheet and cool.
Recipe used with permission from the Flax Council of Canada.
Our Farm Fresh Flax Products
---