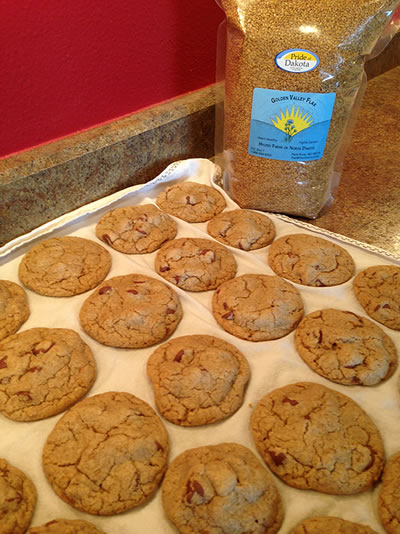 This is our family's favorite Chocolate Chip Cookie Recipe…with a little flax adjustment!
Cream Together:
2 cups brown sugar
2 cups white sugar
2 cups butter
(may substitute unsweetened applesauce for some of the butter)
Add:
4 eggs
2 tsp vanilla
1 tsp salt
1 tsp baking powder
1 tsp baking soda
4 cups flour
4 cups oatmeal (blended fast until powder)
1 cup ground flax
Mix together:
24 ounces real chocolate chips (not semi-sweet)
Bake:
On ungreased baking sheet for 9-10 minutes at 350 degrees.
Take out of oven while still soft…they will firm up while cooling.
A good Chewy cookie!
Our Farm Fresh Flax Products
---