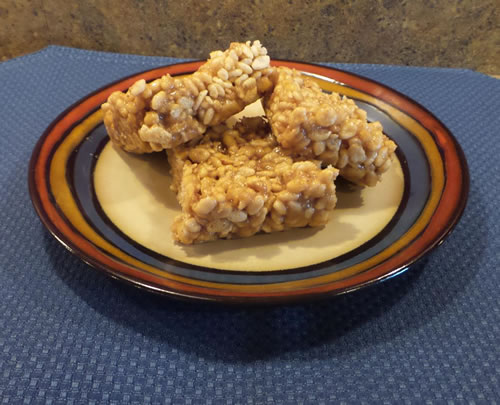 A quick and easy snack that the kids can make themselves!
Ingredients
1 cup creamy peanut butter
1 cup brown sugar
1 tsp vanilla
1 cup corn syrup
1 cup ground flaxseed
5 cups rice krispies
Directions
In a microwave-safe bowl, mix together the peanut butter, corn syrup, and brown sugar. Microwave for about 3 minutes on HIGH. Stir in the ground flaxseed and vanilla, then pour the mixture over Rice Krispies and mix well. Coat a 9×13 inch baking pan with nonstick cooking spray, then spread the mixture into the pan and press down to form a dense sheet. Let the mixture sit for about 5 to 10 minutes, until firmly set, then cut into bars. Makes about 28 bars. Each bar contains approximately 2/3 tbsp. flaxseed.
Recipe used with permission from Flax Your Way to Better Health by Jane Reinhardt-Martin RD,LD
Our Farm Fresh Flax Products
---