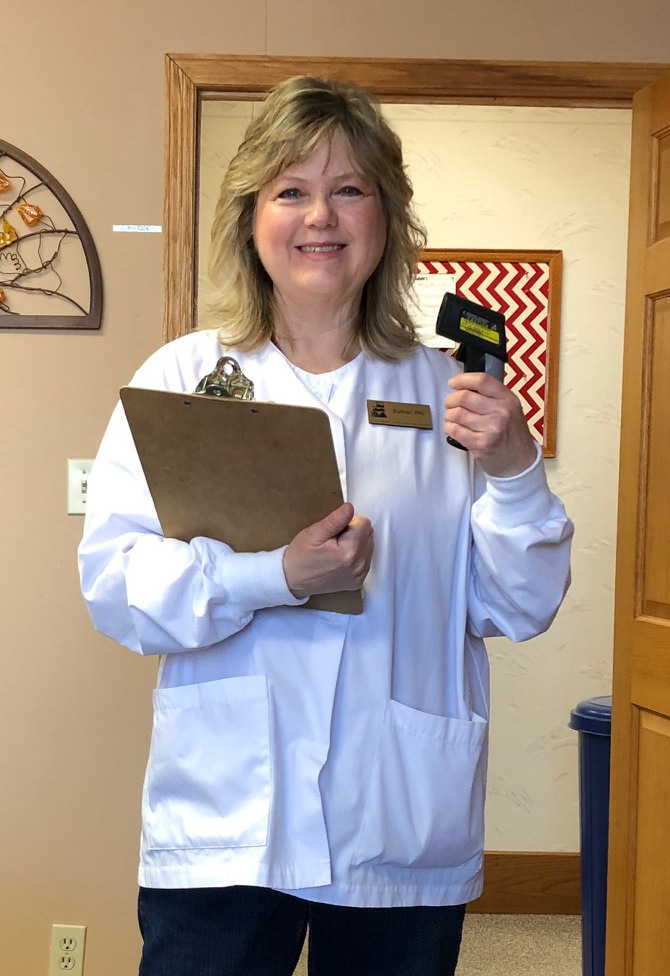 Straight from Mark's farm toolbox!
Esther promotes Golden Valley Flax to strengthen your immune system to fight against covid-19.  When thermometers were in short supply at the clinic, Esther grabbed Mark's Ray Tec farm thermometer to lighten spirits  on a tense day.
 Golden Valley Flax and Covid-19
A message from Esther RN, otherwise known as "The Flax Lady".
Do you have that feeling that the other shoe will drop, that either you, or a dear family member will soon, "get it?"
Do you wake up during the dark of night and start to worry…and then worry until dawn, when bleary eyed you stagger out of bed, dreading the day ahead?
It seems like we all have that feeling that doom is just around the corner, and there is nowhere to turn…or is there?
What can we do?  Where can we turn?
I am a Nurse, and let me tell you that being a Nurse during a Pandemic is tense.  I am not in the front lines, I am in the background, a Nurse at a Mental Health Clinic, however the fallout of this crisis is everywhere from the schools, to the beauty shops, our neighborhood stores and  our homes.  In the midst of this very real crisis, I have determined to be intentional in making healthy choices, and to be a light in a dark place.  May you too, be blessed with peace and hope as we face this together.
I have 3 Positive Steps to share with you:
Eat Flax every day.  Flax helps to boost your immune system.  Our immune system is  our body's ability to defend itself successfully against bacteria and viruses.  Two components of Flax, lignans and ALA ( alpha-linolenic acid), have been found to favorably affect immune cells and the compounds that control our immune reaction.  You can order online from our family farm and we will ship your flax fresh from our farm to your home at https://www.goldenvalleyflax.com/
I have been a Nurse for over 40 years, and have been taking our Golden Valley Flax for 20 years.  I can truthfully say that I am rarely sick, even though I have been in contact with sick people on a daily basis.
Practice Social Distancing, wash your hands, wear gloves and a mask when indicated.  Stay home!  We are all in this together, and together we CAN make a difference!
Laugh every day! Patch Adams, noted MD states that "Laughter boosts the immune system and helps the body fight off disease and cancer cells as well as viral, bacteria and other infections.  Being happy is the best cure for all diseases!"
"A joyful heart is good medicine."  Proverbs 17:22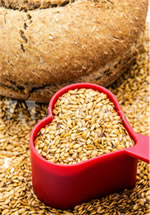 Esther's flax recipe to boost your immune system.
 Thick, chewy Granola-Flax Bars!
Adapted from a recipe found on Smitten Kitchen and found with other recipes at https://www.goldenvalleyflax.com/flax-recipes/
This is a wonderful recipe, the only problem I have is that it is hard to eat just one!
1 2/3 cups quick rolled oats
½ to ¾ cup granulated sugar
1/3 cup ground flax
½ tsp salt
¼ tsp ground cinnamon
2-3 cups dried fruits, nuts and whole flax
1/3 cup peanut butter or another nut butter (optional)
1 tsp vanilla extract
6 Tbsp melted butter or oil
¼ cup honey
2 Tbsp light corn syrup
1 Tbsp water
Preheat oven to 350 F. Line an 8" X 8" pan in one direction with parchment paper, allowing it to go up on the  opposing sides.  Spray with Pam.  Stir together the dry ingredients, including the fruit, nuts and whole flax.  In a separate bowl whisk together the wet ingredients.  Toss the wet ingredients with the dry (and peanut butter) until the mixture is evenly crumbly.  Spread in pan, pressing  firmly.  ( a piece of plastic wrap may help with this)  Bake bars for 30-40 minutes.  Cool completely.  Once cool, cut with serrated knife.  If too "crumbly", chill further in fridge for 30 minutes.   Enjoy!  Mark and Esther Hylden, Golden Valley Flax.
"….Golden Valley Flax, fresh from our farm to your home…"