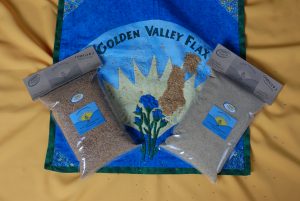 Dr. Michael Greger, M.D. , the author of How Not to Die , recommends a list of foods that people who aspire to healthy living should eat daily.  He calls it the Daily Dozen.  In the middle of the list, after "other vegetables," and before "nuts," is the category , "Flaxseeds!"  Seeing Flaxseed right in the middle of the Daily Dozen made this Flax Lady grin from ear to ear!
So what is the Daily Dozen?  Here it is:
Recommended food/activity-  Number of servings
Beans  – 3
Berries- 1
Other fruits – 3
Cruciferous Vegetables – 1
Greens – 2
Other Vegetables – 2
Flaxseeds – 1
Nuts – 1
Spices – 1
Whole Grains – 3
Beverages – 5
Exercise – 1
Check out incorporating the Daily Dozen into your life!   Make today a healthy day, eat a serving of Flaxseed, exercise, and spread a dose of kindness to those in your path.
To Your Good Health,
Esther Hylden (aka The Flax Lady)
…Fresh from our Farm to Your Home…
Golden Valley Flax
---
Source:  How Not to Die, Discover the Foods Scientifically Proven to Prevent and Reverse Disease, by Michael Greger, M.D., FACLM with Gene Stone