Get to know the farmer of Golden Valley Flax
We wanted all of you to have an opportunity to learn about the reasons your family can trust us to provide award winning Golden Valley Flax, fresh from our farm to your home.   Therefore letting you know about the awards and recognition we have received from respected well known organizations is meant to help you learn about who we are.  What we are revealing about our farm life is based upon facts meant to give you solid reasons to trust our farm.  Last time we focused on Esther and this time we will share some information about Mark so that you can have factual reasons to base your trust in us as we are responsible for your food safety and quality.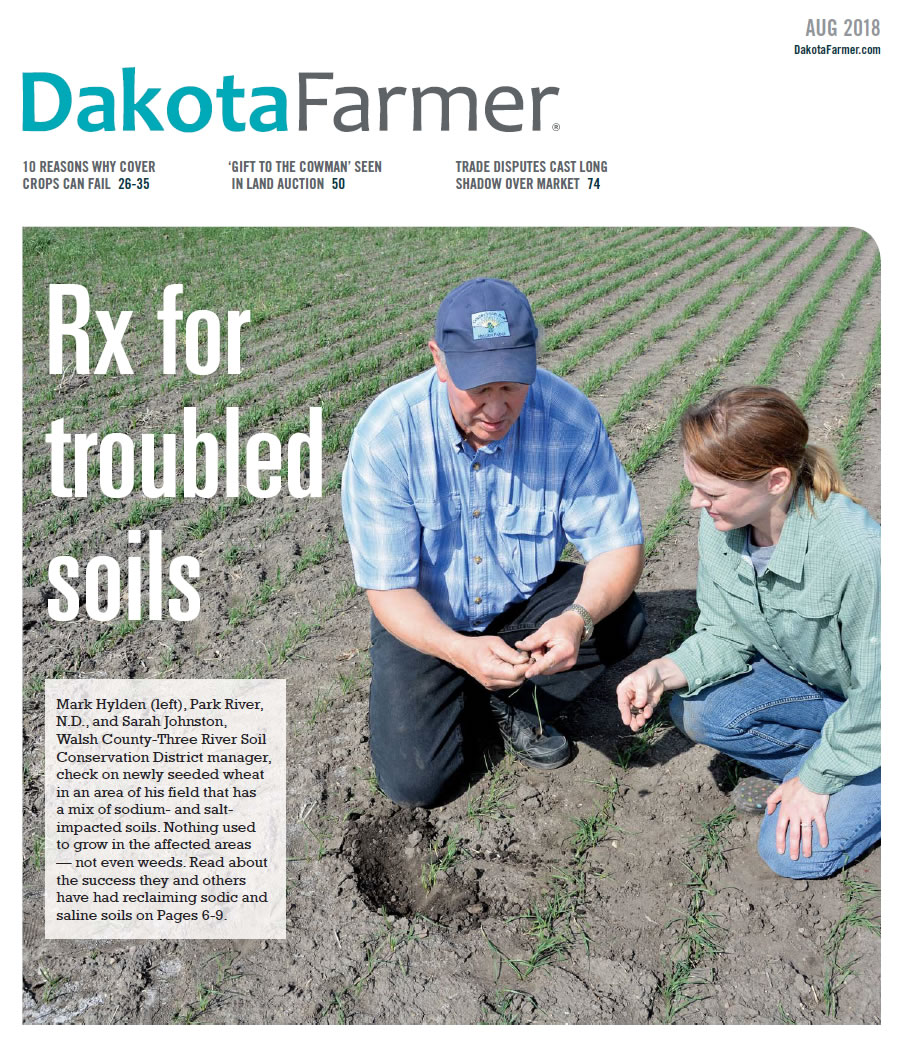 North Dakota Flax Farmer Trusted and Honored with Awards
Your family's health and the safety of the food you eat are the reasons that we highlighting these well known organizations that have recognized the achievements of a flax farmer from North Dakota.  The largest farm organization in the USA is the American Farm Bureau , the AFB can be found at http://www.fb.org , they have awarded Mark and so have professional crop judges from North Dakota State University.  Several other respected places have elected him to serve the community in leadership roles along with the recognition of regional and national magazines.  Therefore we wanted to highlight a few of those awards so your family can get to know the farmer that produces Golden Valley Flax:
Outstanding Farmer for State of North Dakota, awarded by the AFB.
North Dakota State Discussion Meet Champion, for ability to be persuasive with respect to farm issues.
National Finalist in the AFB Discussion Meet.
Awarded for highest quality flax in State of North Dakota and Best of Show in all commodities.
Recognized by national magazines for flax work in Guidepost and Country Woman.
Featured on the cover of Dakota Farmer with a story about how Mark cares for the land and soil stewardship.
The cover of the Dakota Farmer magazine that has a picture of Mark in his field is of importance to all of you that eat our Golden Valley Flax.  The story tells about how we care for the land and the food that we produce, it was written to encourage other farmers to be good stewards of the land.  Mark was referred to as a Soil Savior in the article but he is just a farmer that wants to do the best for the land he is entrusted with.  However the reason for all of this recognition is because of the talents that we have been blessed with and we are using our skills as professional farmers to bring you the best flax.  Our Golden Valley Flax is identity preserved, it is only grown on our farm and we have been recognized nationwide for our accomplishments.  We want you to know that you can trust our flax just as many scientific medical studies have tested and trusted our Golden Valley Flax.  This trust can be seen in the study completed by Dr. Verghese of Alabama A&M as that mentions our farm's Golden Valley Flax in the acknowledgments at https://www.goldenvalleyflax.com/effects-flax-seed-oil-seed-meal-colon-tumors/ so you can have confidence when buying our award winning flax.  Now would be a great time to order Golden Valley Flax for your family, just go to https://www.goldenvalleyflax.com/product-category/flax-seed/ and we will be glad to take care of your order.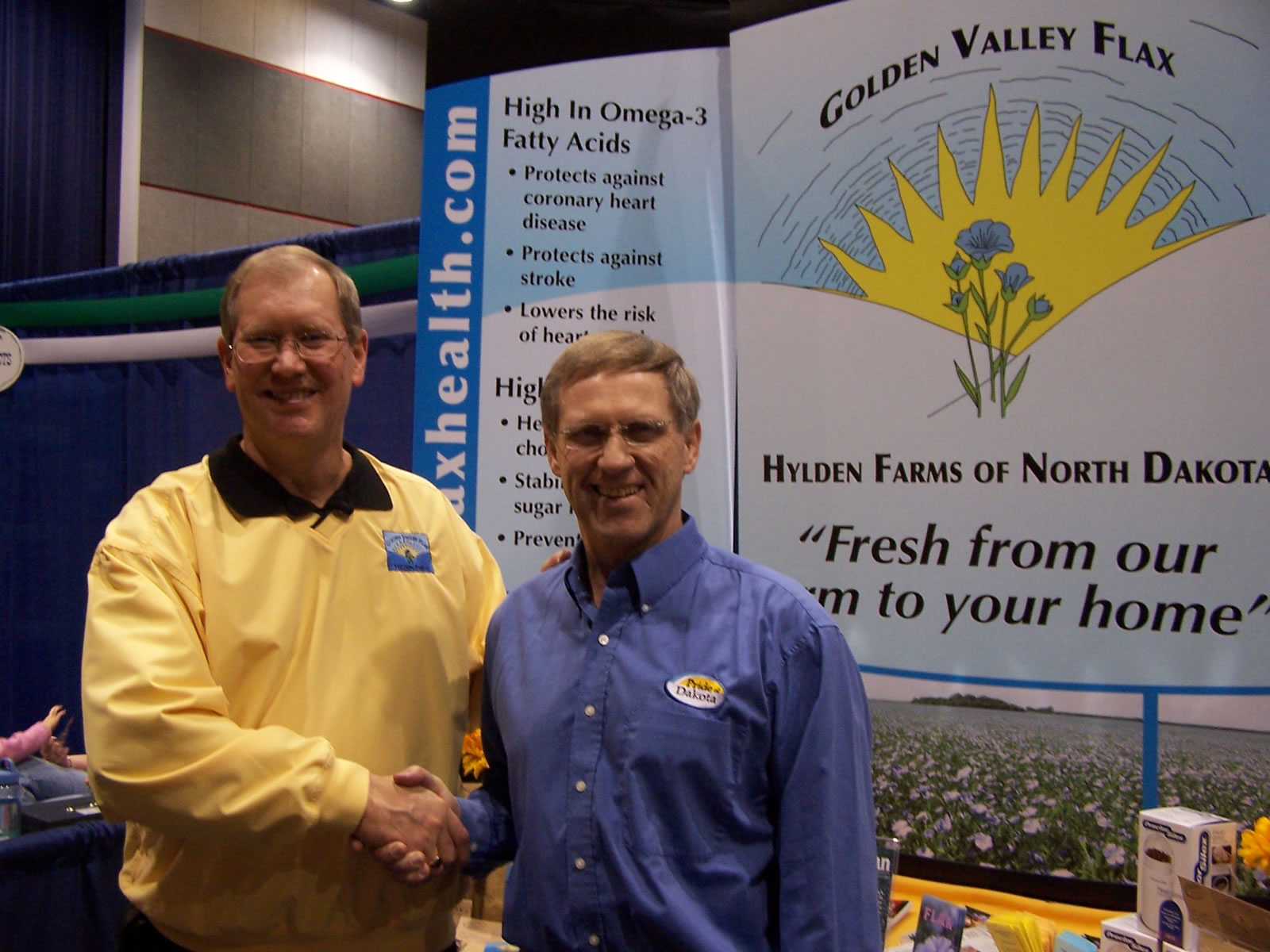 Farmer has Written Story about Flax
Our farm can also be trusted as our values guide the operation of our farm to provide you with the safest food.  All of us as we work encounter problems sometimes, we also have breakdowns with the machinery we use on our family farm and one of those problems turned into a real blessing.  A repair needed to be made on our John Deere combine during flax harvest a few years ago and it has led to a story researched and written by Mark about flax based upon a story recorded generations ago in the Bible.  It starts with the story about Rahab hiding Joshua's spies in flax straw used to make clothing at her home in Jericho and weaves  that into an inspirational story about how God used flax to save them.  The story has been reviewed by several Biblical scholars including Dr. Walter Kaiser Jr. who asked permission to teach this at Gordon-Conwell Seminary.  See http://www.walterckaiserjr.com for more information.  The story is also interesting from a historical and archeological perspective as we have become so far removed from direct involvement in agriculture that we need to be reminded of how food and fiber are so very important to our well being.
If you want a copy of the story you can drop me an email request and I will send you the story via return email.  Our email is flax@goldenvalleyflax.com and you can share it with any one that needs encouragement.    It is our hope that you would "Like" or "Love" this on Facebook and share it with as many friends as possible.  You will be helping countless friends with good health from our flax plus you will be an encouragement to all of them if you pass it along.  Thanks for sharing.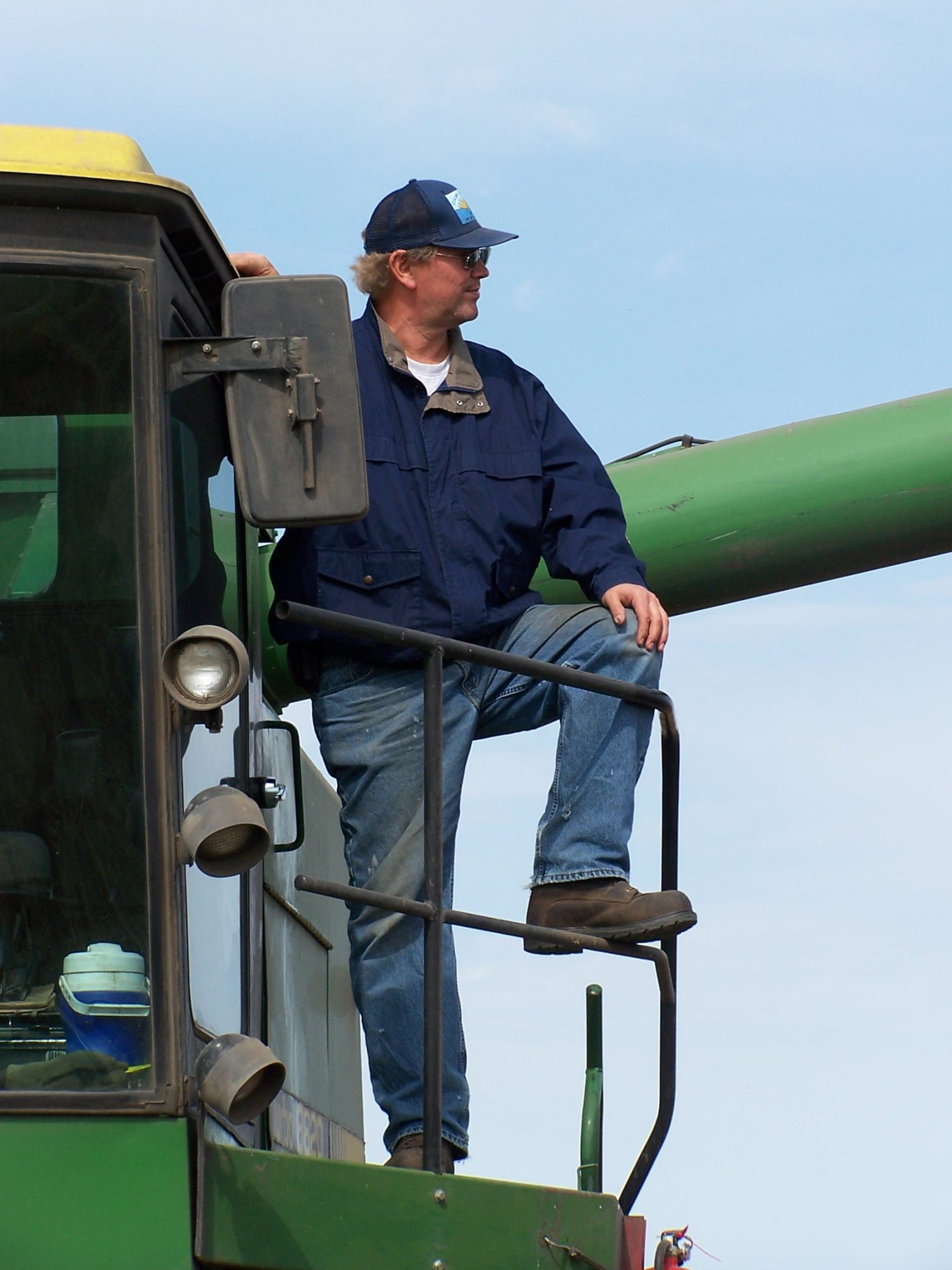 Mark Hylden on John Deere combine
Golden Valley Flax Muffin Recipe
Bran Flax Muffins
I got this recipe from a lady I met at Farmers Market this past summer. It tastes good and is full of healthy ingredients!
1 ½ cup unbleached white flour (I use half wheat)
¾ cups ground flax
¾ cup oat bran
1 cup brown sugar
2 tsp baking soda
1 tsp baking powder
½ tsp salt
2 tsp cinnamon
1 ½ cup carrots, shredded
2 apples peeled and shredded
½ cup raisins (optional)
1 cup chopped nuts
¾ cup milk
2 eggs, beaten
1 tsp vanilla
Mix together flour, ground flaxseed, oat bran, brown sugar, baking soda, baking powder, salt and cinnamon in a large bowl. Stir in carrots, apples, raisins (if desired) and nuts.  Combine milk, beaten eggs, vanilla.  Pour liquid ingredients into dry ingredients.  Stir until ingredients are moistened.  Do not over mix.  Fill muffin cups ¾ full.  Bake at 350 degrees for 15-20 minutes.  Yield:  15 medium muffins.
Flax provides a pleasant flavor to many basic foods, such as muffins, pancakes and bread. It's unique blend of Omega 3's, fiber and lignans provide for a nutritious addition to your diet.
Enjoy!
Esther Hylden, the Flax Lady