GOLDEN VALLEY FLAX FROM HYLDEN FARMS OF NORTH DAKOTA
AWARD WINNING NATURAL WHOLE AND GROUND FLAX
We have been working hard to help all of you understand about the quality of our award winning flax by giving you a look into our lives and professional recognition that we have received from all across our nation.  Our real passion is for your good health and we want to give you reasons for being motivated to eat Golden Valley Flax everyday.  For two decades our farm has been involved with the United States Flax Institute because of our desire to help your family.  Please see https://www.flaxinstitute.com for more information.    The scientists and medical researchers come from all around the world to Fargo, North Dakota for a two day conference held every two years for the purpose of presenting the latest and best research regarding the health benefits of flax.  It is from this forum that we have been able to connect with medical professionals that have used our Golden Valley Flax in multiple published medical studies.  Our farm has the award for the best flax in the state of North Dakota where 97% of our nation's flax is produced and these critical scientific studies demand nothing less than the best flax.  Several studies have focused on the ability of flax to fight against inflammatory diseases and that will be our focus for this article.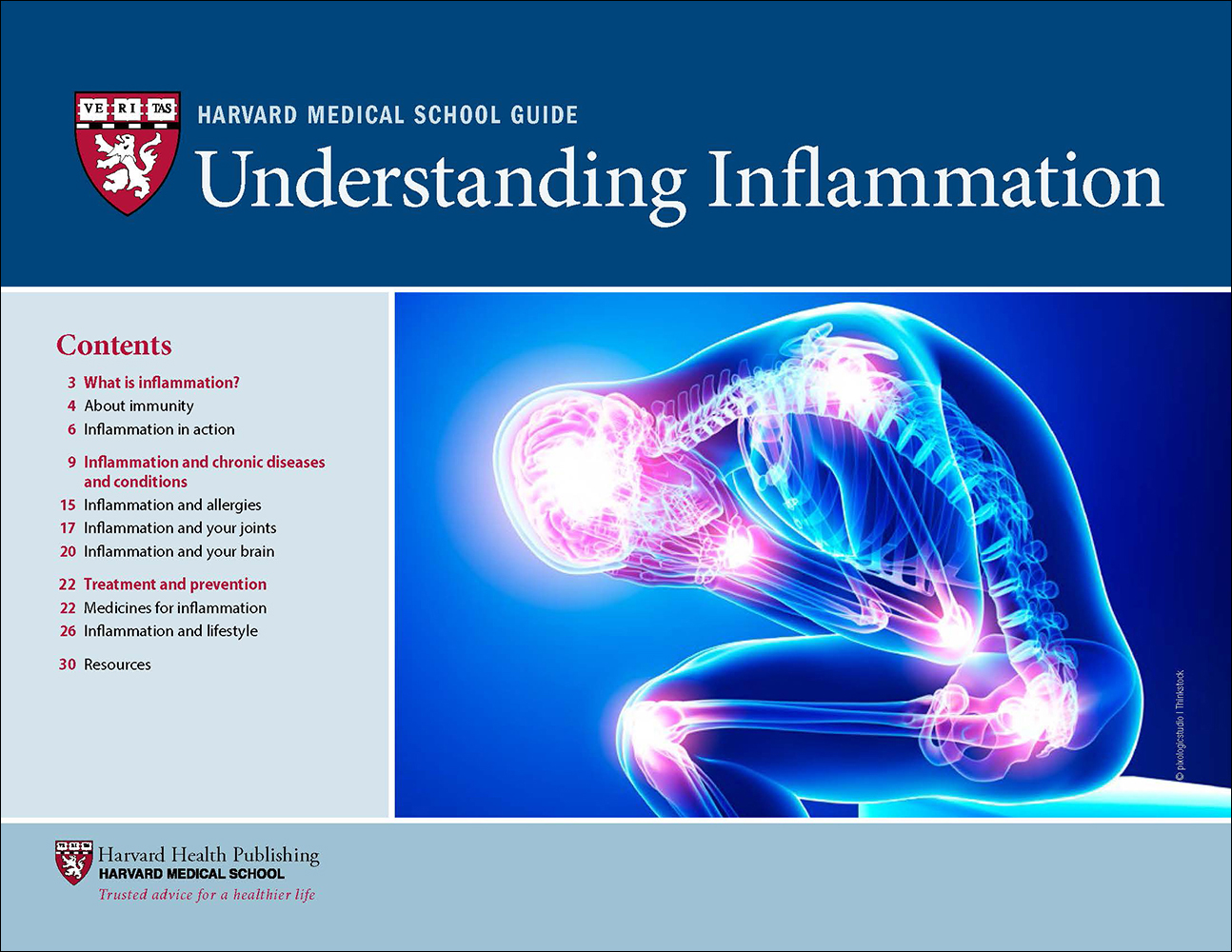 Harvard Medical School reports on how flax fights against inflammatory disease
Many studies have concluded that flax can help with inflammatory disease.  This recent study from Harvard Medical School can be found at https://www.health.harvard.edu/diseases-and-conditions/simple-tips-to-fight-inflammation.  Flaxseed inhibits the production of pro-inflammatory cytokines and lipid mediators derived from arachidonic acid (an omega-6 fatty acid) and thus reduces inflammatory responses. This effect is likely due to one or both of the following constituents present in flaxseed: alpha-linolenic acid (ALA), the essential omega-3 fatty acid, and lignans, which are phytoestrogens that exhibit antioxidant ( may help protect cells from damage caused by free radicals), antimitotic (helps stop cancer cell growth) and antifungal ( prevents the growth of fungal organisms) activity.[3] With its unique fatty acid profile, flaxseed is the richest source of ALA in the North American diet—ALA constitutes 57% of the total fatty acids in flaxseed.[4],[5] It is also the richest source of lignans, providing 75-800 times more lignans than other plant foods such as legumes, cereals, vegetables and fruits.[6] ALA and lignans appear to influence inflammatory responses by different mechanisms.  You can read more about this study on our website at https://www.goldenvalleyflax.com/flax-facts/health-research-articles/flaxseed-reduces-inflammation/  and the really good news is that flax helps in so many ways that your entire family will be healthier eating flax every day.  You may also like to know that because of our high quality Golden Valley Flax, our farm has supplied Harvard University with flax.  What we have said before needs to be repeated, our flax is the best tasting flax and highest quality flax in the nation because of the micro climate the surrounds the area we farm.  We not only want you to eat flax because of the health benefits but we also want you to enjoy it.  Golden Valley Flax, fresh from our farm to your home is the answer.  You can order securely online at https://www.goldenvalleyflax.com/product-category/flax-seed/ and start your family on the road to improved health.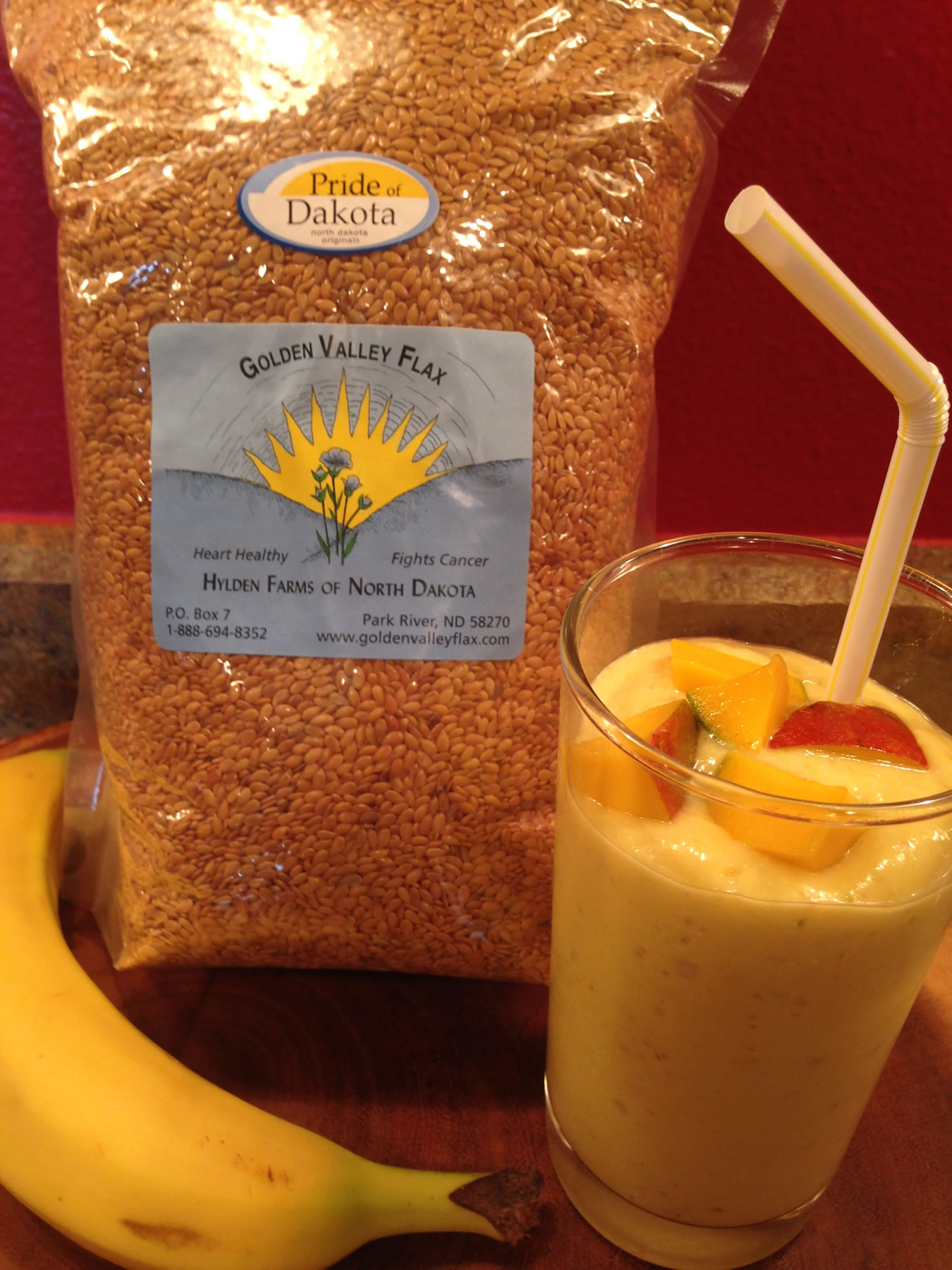 GOLDEN VALLEY FLAX MAKES TROPICAL MANGO SMOOTHIE
Tropical Mango Smoothie
A summer delight!
1 Cup chopped mango
¼ peeled sliced banana
½ cup unsweetened pineapple juice
½ cup pineapple chunks
2 frozen yogurt chunks (freeze fat-free vanilla yogurt in standard muffin cups)
1 T. honey
2 T. ground Golden Valley Flax
(Shortcut: Freeze this smoothie in a to-go cup, then let it thaw until slushy.)
Adapted from a recipe from Healthy To Go.