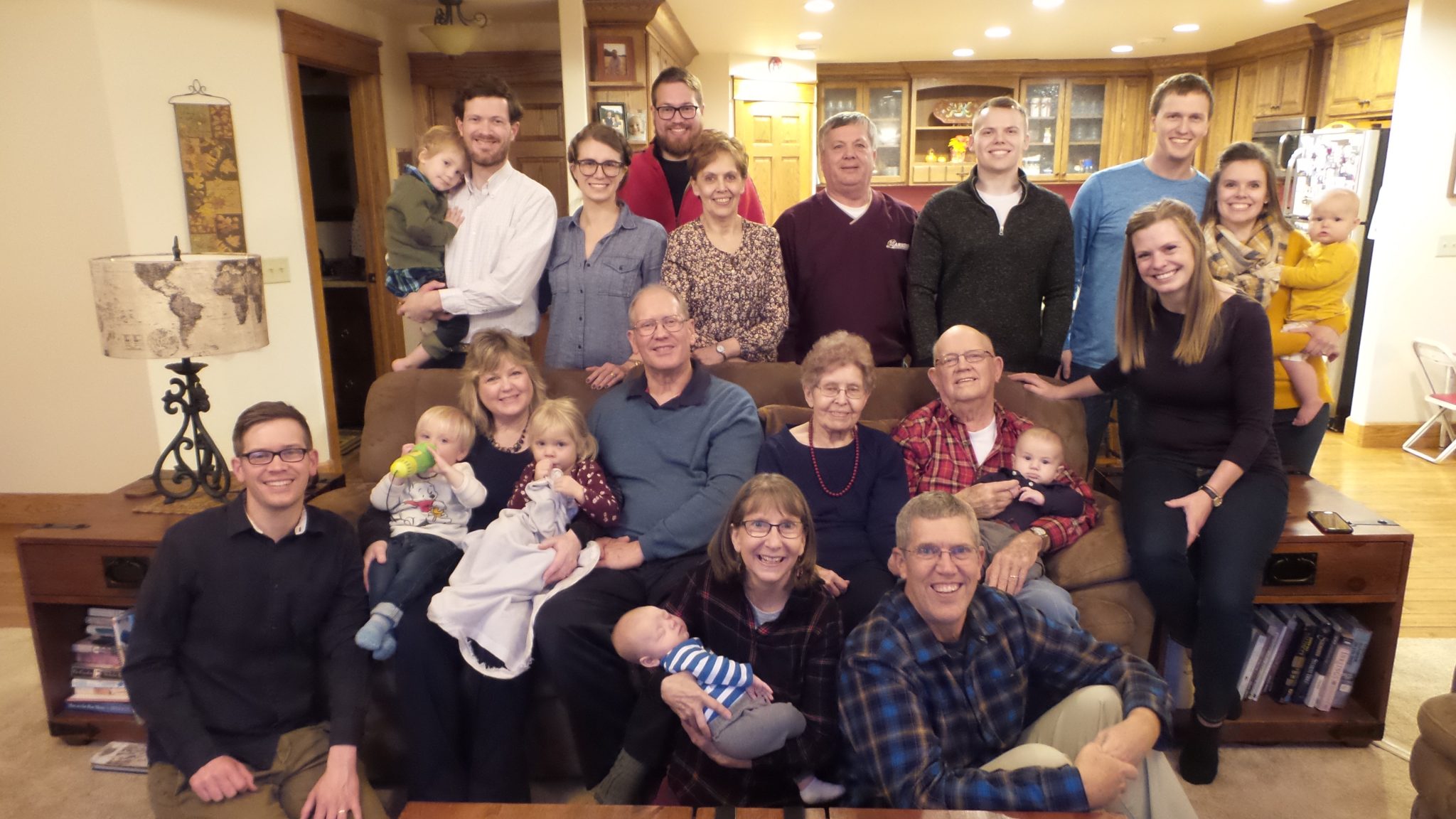 Celebrating Good Health at Pride of Dakota Holiday Showcase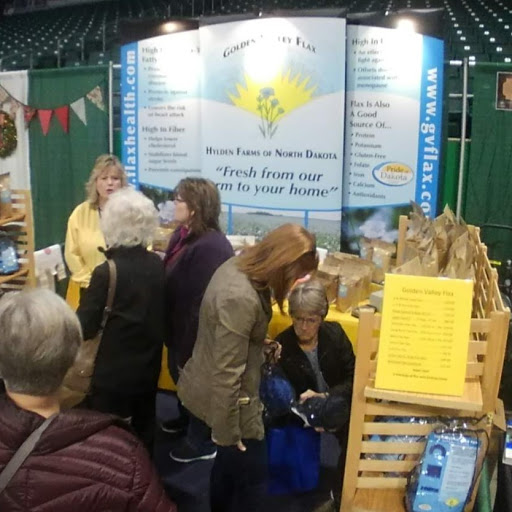 What an exciting time of year for our Golden Valley Flax family as we celebrate good health and birthdays.  My father, Don Hylden celebrated his 90th birthday with his wife LaVonne along with family and friends.  We had our three sons home, Jordan and his wife Emily plus Charles and little Donny; Jarrod and his wife Elise plus Winnie, Augie and Peter; and Justin.  Over 100 people gathered at Victory Church in Park River to wish Don a happy birthday.  Don is a good example of healthy living.  He eats Golden Valley Flax everyday, fresh vegetables from the garden he cares for and freshly baked bread made at home by Mom.  Furthermore, to top it off, he still drives the combine, tractor and farm trucks.
Then we are also into the season for the North Dakota Department of Agriculture hosted Holiday Showcase Events.  https://www.prideofdakota.nd.gov/events/  Helping with answering questions about the health benefits of flax is one of our passions.  You can see this passion in Esther's face as she visits with our customers at a recent Pride of Dakota Show.  We want all people to have an opportunity to learn about flax and how it can help you live a healthier life.  Each year we participate in these events that enable us to visit with thousands of people and promote good health with our award winning flax.  We also want to reach out to all of you throughout our great nation.  Please visit our website for more reasons to eat flax at https://www.goldenvalleyflax.com/flax-facts/6-reasons-flax-diet/ or send us an email question at flax@goldenvalleyflax.com or if you want to hear my Scandinavian accent you can call us toll free at 888-MY GV-FLAX which is 888-694-8352.  We are always glad to help with Golden Valley Flax as you celebrate good health and birthdays.
Cholesterol and heart disease: The role of diet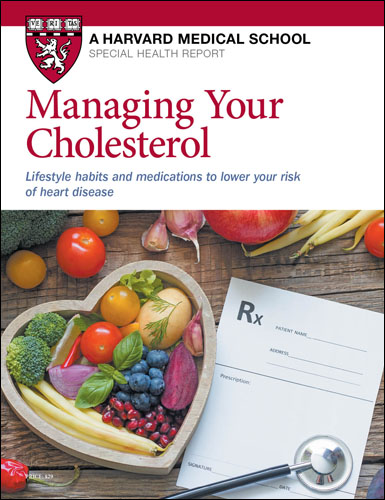 Your diet clearly plays a role in determining your cholesterol levels, but if you're like most people, the most important factor isn't how much cholesterol-rich food you eat. Rather, it's what else you eat. Figuring this out has been a learning process.
Foods high in fiber, low in saturated fat can lower cholesterol; Harvard Medical School
While saturated fat and dietary cholesterol both play a role in your cholesterol level, experts stress that the most important dietary change you can make to lower your cholesterol numbers is to adjust the overall pattern of your diet. Best is a diet rich in fruits, vegetables, fish, flax and whole grains. This helps in two ways. First, the more of these healthful foods you eat, the less you generally consume of foods that are high in saturated fat and highly refined carbohydrates, which both damage the cardiovascular system. Second, high-fiber foods help reduce your cholesterol level by making unhealthy dietary fats harder to absorb from the gut.
Because flax leads the entire plant kingdom in three very important areas it is one of the best foods to eat for good health.  First of all flax is the highest plant food source of both soluble and insoluble fiber.  Medical studies have shown that flax lowers bad cholesterol and it reduces the risk of colon cancer.   Flax also holds the record for the highest amount of lignans that help in the fight against cancer.  Finally for the one-two punch against cardiovascular disease, flax leads the plant kingdom with the highest amount of omega-3 essential fatty acids.  Omega-3s have been the focus of many medical studies showing a positive correlation with good heart health.
Golden Valley Flax, Fresh from our farm to your home.
We have written many articles about how Golden Valley Flax can help with your cardiovascular health.  Flax has been scientifically proven in medical studies to help fight cholesterol problems.  You can look at one of those articles at https://www.goldenvalleyflax.com/flax-facts/health-research-articles/healthy-heart-flax/  and another good reference is found at https://www.goldenvalleyflax.com/flax-facts/health-research-articles/alpha-linoleic-acid-cardiovascular-diseases/  so we want to encourage you to make flax a part of your diet everyday.  Here is a good way to make flax a part of your plan for a healthy diet, a great recipe idea from Esther's kitchen.  Please visit the website for our family farm at https://www.goldenvalleyflax.com/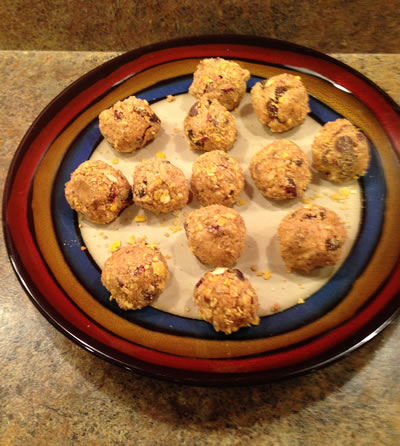 Flax Peanut Butter Breakfast Balls
3/4 cup peanut butter, crunchy or creamy ( or use almond butter or cashew butter )
3/4 cup old fashioned oats
1 tsp vanilla extract
1 Tbsp maple syrup ( may omit if you choose )
Any variety of the following:
1/4 cup sliced almonds
1.4 cup raisins or crasins
1 Tbsp whole flaxseed
1 Tbsp ground flaxseed
1/4 cup shredded coconut
Mix ingredients well.  Spoon out about 1/4 cup and shape into balls or a bar.  Mixture will be a bit sticky so wax paper may help.  Place in a container and store in the refrigerator.  A special thanks to one of our loyal customers for sharing this recipe.